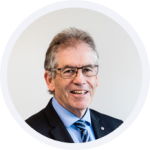 Associate Professor Gregory M Cario
Greg Cario is a Conjoint Associate Professor in Obstetrics and Gynaeclogy at the University of NSW at the St George campus. He began as an intern at St George Hospital completing his training in the UK on rotation and has worked at St George ever since. He was one of the founders and a director of the Australian Gynaecological Endoscopy and Surgery Society (AGES) in 1990 and a pioneer of Laparoscopic Urogynaecology and teaching keyhole surgery in Australia.
He has been the head of the Minimally Invasive Surgical Unit at St George Hospital in Sydney and the Sydney Women's Endosurgery Centre or SWEC since 1995. He set up Australia's largest and longest running accredited teaching fellowship programmes as well as multiple yearly international workshops in Advanced Laparoscopic Surgery. He has presented and performed keyhole surgery all over the world and published widely on Advanced Laparoscopic surgery and in particular Laparoscopic Hysterectomy, Prolapse and Incontinence surgery.
M.B.B.S Honours
Sydney University
M.R.A.C.O.G.
Melbourne April '82
M.R.C.O.G.
London July '82
Director of Sydney Women's Endosurgery Centre
St George Hospital
Director of St George Urodynamics Unit
Hurstville Private Hospital
VMO
St George Hospital, St George Private Hospital
VMO
Hurstville Private Hospital
VMO
Macquarie University Hospital
Clinical Experience
In the UK I enjoyed a secondment to Stuart Stanton at the Urogynaecology Unit at St George's Hospital. He showed me how to perform Burch Colposuspension and I worked with the fellow to become proficient at Urodynamics. I subsequently set up the first Urodynamic service at The West Middlesex hospital which still continues to this day.
Following my return from the UK and my VMO appointment in 1985 I founded the St George Urodynamic Centre providing the only Urodynamic service in Sydney South.
Following on from this I developed and interest in Endoscopic Surgery, attending the first workshop in hysteroscopic surgery and laparoscopic surgery in Australia, in the early 1990's.
In 1991 I embarked on my first laparoscopic hysterectomy. Not long after this I followed my interest in pelvic floor surgery to perform a laparoscopic Burch colposuspension in 1992, which I believe to be the first time it was successfully performed in Australia. At that time I set up an Endosurgery Unit at Hurstville Community Hospital and was asked to join Sydney's first Gynaecological Endoscopy group at Liverpool Hospital. I began performing animal workshops and lecturing in laparoscopic surgery at major meetings throughout Australia.
In 1995 I was the co-founder of the Sydney Women's Endosurgery Centre (SWEC). It has subsequently become the major Endosurgery Training Centre in Australia both at postgraduate and post-consultant level. Because of the extensive research facilities and the Research Fellows associated with the Unit, we have been able to publish widely both in Australia and internationally.
I have presented major work in Endosurgery in Australia, Asia, Europe and America. I have received an Award at the Seattle meeting of the A.A.G.L. in 1997 for my presentation of "The Learning Curve for Laparoscopic Hysterectomy". This was judged one of the best papers presented at the Meeting. In December 1998 at the International Meeting for the Society of Laparoscopic Surgeons, we were once again successful in presenting a paper on "Venous return during laparoscopic surgery" which was judged the best gynaecological paper in endoscopy presented at that meeting.
I became a director and board member of the Australian Gynaecology Endosurgery Society (AGES) from 2002 to 2007 where we helped establish accreditation levels for Advanced Laparoscopic Surgery. I continue to be active in the society on various subcommittee like the Education, Research and Grant committee.
I have also preceptored doctors in almost every state in Australia over many years to teach Total Laparoscopic Hysterectomy and Pelvic Floor Reconstruction and the fundamentals of Advanced Laparoscopic Surgery.
I have been invited to perform surgery throughout Australia, Asia, the Middle East and in the UK. I have operated at 2 Internati
American Association of Gynaecological Laparoscopists
International Society for Gynaecological Endoscopy
British Society of Gynaecological Endoscopy
Society of Laparoscopic Surgeons
International Urogynaecological Association
AMA
NASOG
ESGE
Foundation faculty member of Ectopic Pregnancy Foundation – UK
Gynaecological Surgery. Society of Laparoendoscopic Surgeons Annual Scientific Meeting. Expo 98, San Diego, USA. Dec. 1998.

Danny Chou, David Rosen, Lesley North, Greg Cario, Mark Carlton, Alan Lam. Femoral venous Flow during Laparoscopic Gynaecological Surgery. Society of Laparoendoscopic Surgeons Annual Scientific Meeting.
Expo 98, San Diego, USA. Dec. 1998.
BEST GYNAECOLOGICAL PAPER

Australian Gynaecological Endoscopy Society Annual Meeting, Sydney, July 1997.

Rosen DMB, Lam AM, Chapman M. Carlton MA, Cario GM. Methods of creating pneumoperitoneum – A review of techniques and complications. Australian Gynaecological Endoscopy Society Annual Meeting, Sydney, July 1997.
BEST PRESENTATION

Gynaecological Laparoscopists Annual Meeting, Seattle, Washington, September 1997.

Rosen DMB, Cario GM, Carlton MA, Lam AM. The learning curve for laparoscopic hysterectomy. American Association of Gynaecological Laparoscopists Annual Meeting, Seattle, Washington, September 1997.
EQUAL THIRD PRIZE – POSTGRADUATE PRIZE PAPER COMPETITION
Teaching
As a Senior Registrar of West Middlesex Hospital I arranged MRCOG and DRCOG exams as well as being an examiner for final year medical students.
I began my postgraduate teaching career soon after my return from the UK in 1985 when I took up the position of Lecturer in Obstetrics and Gynaecology at Bankstown hospital through the University of NSW. This involved largely teaching undergraduates and RMOs. I was also the local College Training Supervisor for the registrars for 10 years before I moved to St George where I have continued to teach and be a training supervisor for advanced laparoscopic fellows. Thereafter I turned my attention to post fellowship training at SWEC, although I still continue to teach registrars, RMOs and undergraduates and nurses. I am presently involved in the mentoring program for final medical students and the Pre Vocational Obstetrics and Gynaecological Society Workshops to promote advanced endosurgery to medical students and registrars.
Over the last 27 years I have worked to establish a reputation both nationally and internationally for innovation and teaching of advanced laparoscopic surgery. This has been achieved through a network of Australian and overseas surgeons who have participated in the workshops and also the fellows from within Australia and the wider medical community overseas. We have just finished our 80th major workshop since 1996 (around 600 participants) and at present we are training our 50th fellow in laparoscopic surgery. These fellows come from the UK, Europe, Ireland, Israel, India, Asia, Saudi Arabia, USA and from all states in Australia. These connections have allowed my colleagues, fellows and I to present original research at Laparoscopic meetings all around the world and to win prizes against major opposition. It has also resulted in me performing Master classes in Australia and being on the faculty of other renowned Endoscopic units in Australia. I have been lucky enough to be asked to perform workshops and surgery overseas in the UK, India on 5 occasions, Saudi Arabia, China, Singapore, Pakistan, and the Philippines. I am currently preparing an international collaboration based on SWEC surgeons that will involve me carrying the SWEC formula with workshops in many of these countries. This is already allowing us to have an international collaboration with these units to perform multicentre trials.
My position on the board of the Australian Gynaecological Society has allowed me to further my national and international recognition and also help set many of the training guidelines for doctors entering this unofficial subspecialty area that of course runs across all the subspecialty areas. As a board member I was also on the faculty and organizing committee for all of the AGES meetings over recent years. I also helped run one of the first registrar workshops in laparoscopic surgery. This is now and annual event.