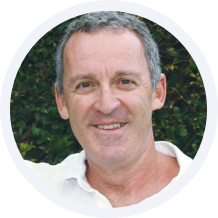 Dr David Rosen
David Rosen was the first SWEC Fellow appointed in 1996 at the formation of the unit at the St George Campus. In this role he was present for the early days of Laparoscopic Gynaecological surgery in this country and indeed around the world, being responsible for many of the early publications in Minimally Invasive surgery at a time when laparoscopy was still struggling to justify itself as a valid option in the face of opposition from traditionally trained gynaecologists who performed their surgery by large cuts in the abdomen.
Accordingly, Dr Rosen and SWEC published and presented extensively within Australia and Internationally on the efficacy and cost effectiveness of this new form of surgery.
Fellowship
In 1996-97, Laparoscopic surgery was in its infancy. Surgeons were trying to transfer open surgical skills to the laparoscope, improving and inventing instrumentation, advanced optical and imaging technology and modifying operations with their increasing and expanding skills, all the while under the watchful gaze of more "traditional" surgeons who looked on sceptically and with some alarm at these laparoscopic arrivistes. A Laparoscopic Fellow in those days required skills in Video editing (in the days before iMovie!), study design and implementation, public speaking and presentation at meetings as well as learning from his SWEC mentors, Dr's Greg Cario, Alan Lam and Mark Carlton. It was not long before keyhole surgery was the accepted standard and justification was no longer required, thanks to the early work of units like SWEC.
In 1996, Dr Rosen help set up and then facilitate the first of what has become a tri-annual course in Laparoscopic Gynaecology at St George Private and Public Hospitals. Initially a 3-day course demonstrating the latest techniques to 6-10 gynaecologists wishing to see the state of the art in minimally invasive surgery. This course was later expanded to 5 days and has been running for 24 years. Later that year the entire SWEC team headed to Queenstown in NZ for the AGES Annual Scientific Meeting, and from there to the Chicago in the USA for the AAGL ASM, presenting multiple papers at both meetings and putting the SWEC name on the world map of Laparoscopic gynaecological surgery. For his efforts, Dr Rosen was awarded the Ethicon Travelling Fellowship by AGES, a stipend that permitted post-Fellowship travel to visit surgeons in the USA prior to taking up a position in the UK in 1998.
International experience
As his 2 years as a SWEC fellow were coming to an end, Dr Rosen applied for further training jobs in the USA and UK. After a poolside chat in the hills of Rome at the 1997 European Society of Gynaecological Laparoscopy meeting (ESGE) with Prof. Chris Sutton, he was employed as his Fellow for 1998. That meeting concluded with 100 of the delegates obtaining a private meeting in a large Vatican hall with Pope John Paul II, a highlight of Dr Rosen's training and a fitting end to a most successful conference!
Using the Travelling Fellowship, Dr Rosen visited surgical colleagues in Memphis (Dr Dan Martin), Atlanta (Dr Tom Lyons), Chattanooga (Dr C.Y.Liu), Tucson (Dr Joel Childers) and spent an extended period at the Stanford University campus in Palo Alto with Dr Camran Nezhat. He was then employed as the Fellow to Prof. Chris Sutton at the Royal Surrey County Hospital in Guildford which combined with regular operating sessions at the Chelsea and Westminster Hospital, London. Prof. Sutton was a pioneer in laser surgery for endometriosis with extensive international recognition, and as a now senior Fellow, Dr Rosen was able to carry the bulk of the surgical workload for his time in the UK.
Professional experience
Returning to Australia in 1999, Dr Rosen took up a position as a VMO at St George Public Hospital and soon after at the Royal Hospital for Women in Randwick. Private appointments at St George Private and St Luke's Private Hospital, Potts Point, were obtained and he began a unique experiment – one of the first O & G trained practitioners to concentrate solely on Gynaecological surgery with no obstetric practice. Whilst many pundits thought this decision was crazy, as the nature and complexity of the surgery achievable by skilled and experienced Laparoscopic surgeons has expanded, more and more physicians are recognizing that specialization is the key to best practice.
Whilst the early days of a clinical career can be challenging, the help and support of his senior colleagues Dr Greg Cario and Dr Mark Carlton helped smooth the transition, a trait that SWEC has continued through the years. David was invited to bring surgical cases to the regular operating lists of his mentors and this later translated into a succession plan on the retirement of Dr Carlton. Dr Rosen continues to operate regularly with A/Prof Cario and has been the SWEC Treasurer since 2010. The team regularly attend local and International meetings, relishing the opportunity to catch up with former SWEC Fellows around the world as well as presenting research at these venues.
In 2012, Dr Cario, Dr Rosen and Dr Chou together with their Fellows, travelled to Celebration in Florida USA, just outside of Orlando, to commence their Robotic training under the supervision of Dr Arnold Advincula. Later that year, he travelled to Australia were the 3 SWEC surgeons were preceptored on the Da Vinci Si Robot at Macquarie University Hospital and were approved to operate with that programme. The SWEC team expanded to consult regularly at MUH and whilst the Robot programme has now moved south to the St George area, Dr Rosen maintains regular clinics at the MUH.
Surgical Interests
As a specialized Laparoscopic Gynaecologist, Dr Rosen has gained over 20 years experience in all aspects of benign gynaecological surgery.He has recently been awarded Surgeon of Excellence designation in Minimally Invasive Gynaecology and Endometriosis Care reflecting over 20 years of surgical experience in all aspects of benign gynaecological surgery and conditions. These include –
Advanced surgery for endometriosis
Female pelvic floor prolapse – the Laparoscopic Sacrocolpopexy and Site-specific prolapse repair, often combined with vaginal procedures
Laparoscopic Hysterectomy for Fibroids and heavy menstrual bleeding including removal of uteri though too large for keyhole surgery
Myomectomy – the removal of large uterine fibroids to preserve fertility
Colposuspension and sub-urethral tape procedures for stress incontinence
Fertility assessment and adnexal surgery
Advanced hysteroscopic surgery
As well as general gynaecological care and colposcopy for cervical pap smear abnormalities. Surgery and patient care is often multi-disciplinary involving the surgeons associated with the SWEC team as well as pain management specialists, physiotherapists and radiology specialists amongst others. For further information see the website – www.drdr.com.au
As a Director of SWEC, Dr Rosen is intrinsically involved in all SWEC activities, most significantly the ongoing training of SWEC Fellows at the St George Campus. He also runs regular public outpatient clinics and operating lists at St George Public and the RHW, allowing the Registrars and Fellows to obtain vital Laparoscopic exposure and skills. The close supervision that SWEC is able to provide to their Fellows is evident in the large number of former Fellows who have returned to their home shores and set up their own units in the UK, Ireland, India, Israel and Saudi Arabia as well as the fact that three of the four current directors of SWEC, including Dr Rosen are former Fellows.
Centre of Excellence
In 2020, Dr Rosen has commenced as Programme Director coordinating the SWEC Centre of Excellence programme in Minimally Invasive Gynaecology and Endometriosis Care. The COE Programme is a perfect fit for a unit such as SWEC recognizing the high quality and volume of surgery carried out by 4 surgeons running multiple regular operating lists throughout Sydney and tackling the most difficult surgical cases. In addition, SWEC has 24 years experience in training junior and senior gynaecologists through the Fellowship programme and SWEC courses, scholarly publications and presentations and international recognition. The formal COE accreditation will maintain the drive for the highest quality of care and data collection to advance the field of minimally invasive gynaecological surgery.
Personal details
Dr Rosen is married with 3 children. He is obsessive compulsive about his exercise regimen and can often be spied cycling the 25km from home to his office or in a nearby gym. He supports the Sydney Swans with frustrating passion however above all else, he plays in a band.
Established in 2012 "The Hummers" are "the greatest rock and roll band in the world", according to one rather inaebriated (and possibly tone deaf) party goer at the Bronte Surf Life Saving Club in 2017. Unfortunately David Rosen was not playing that night as he was at a conference in Iceland with A/Prof Cario however playing the guitar in "The Hummers" is the perfect way for him to waste lots of time and money on musical gear and practice.